Landscape
,
Plant
,
Skyland
,
Water Feature
,
Water Fountain
Planning A Water Fountain Garden   by Elizabeth Jean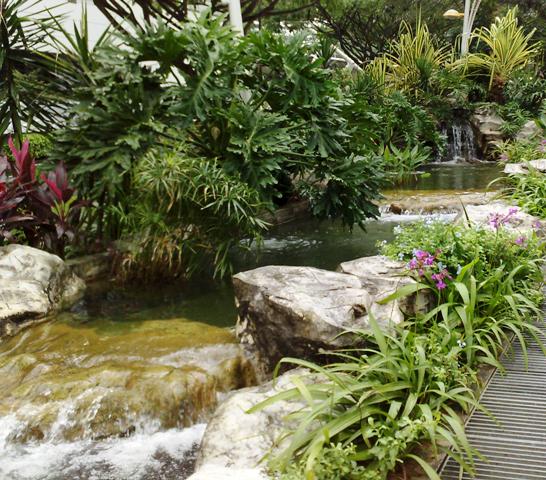 A water-fountain garden will go anywhere in the yard, on the patio, on a balcony, or a porch and even indoors. But certain water features are better suited than others to certain sights (and to certain gardeners, for that matter).
What is Feasible for Installing a Water-Fountain Garden?
This should be your first question, and to find out which water-fountain garden best suits you, your resources, and your space, you'll need to educate yourself. Be a "know it all" before you start, and you will be well prepared to begin your water garden.
Check out prices and calculate what your budget can tolerate. Call garden suppliers that handle water fountains and ask questions about their products. Also, visit local water fountains. Talk with the owners or those who care for them. Visit local clubs-many communities have organizations that sponsor tours. If you're well informed, you'll make better plans, find installation easier, and prevent frustrations down the road.
Size and Site for Planning a Water Fountain Garden
First, check out your site. A large water-fountain garden with a spectacular waterfall will overwhelm a small lot. It also might overwork your budget, your time, and your back. A small garden pool, on the other hand, could get lost in an expansive landscape.
If you're planning anything more involved than a pre-made fountain or container water-fountain garden, you'll also need to check with city or county offices to find out if there are any ordinances that apply to the installation of water-fountain gardens. Get more ideas on water fountains by visiting http://skylandgardening.com/category/water-feature/
Be Calculating When Planning Your Water Fountain Garden
Figure all costs in advance. Small gardens are inexpensive, but large gardens can cost thousands of dollars. You don't want to find yourself in the position of the would-be water gardener who dug a large hole one spring weekend only to fill it in again because the liner was too expensive and didn't fit in the budget.
You may need to contract a large project (or parts of it) to a professional. Pouring concrete, installing electric lines, bricklaying, and excavation can be extensive (and expensive) and are jobs best left to the pros. Most water fountains can be bought in easy to install kits.
Assess your time and strength. A tub garden will take an hour or two to put together, but a large water fountain garden may take weeks to dig and build. It will also require a good back and strong arms and legs. An 18-inch-deep, 6-foot by 4-foot hole may not sound like a big job, but it would probably take a middle-aged man of average strength a half day to dig. For large projects, you can rent a backhoe.
Maintenance of Your Water-Fountain Garden
Remember to calculate maintenance time, too. A tub garden with a water lily takes just a few minutes a week. So does a freestanding or a wall water fountain garden. Add plants
and fish and you add more time. A garden just a few feet across with a few plants and fish will need your attention for an hour or less each week. Larger gardens can demand two or three hours a week. For more wall fountain ideas check out http://skylandgardening.com/category/water-feature/
SHOULD you HIRE IT OUT? A SKILLS RANKING.
* Working with medium-sized boulders and rocks 1 to 3 feet in diameter * Building a wood-sided water garden
CHALLENGING
* Installing a wall fountain * Installing a bridge * Working with large boulders and rocks more than 3 feet in diameter
FOR PROFESSIONALS (OR HIGHLY SKILLED AMATEURS)
* Wiring and other electrical work * Operating a backhoe * Laying brick and concrete block * Installing 1-foot or higher stone walls * Pouring concrete
EASY ENOUGH FOR BEGINNERS
* Sealing and installing a pump in a container * Digging a hole a few feet across * Laying flagstone or stacking concrete paving blocks * Installing narrow widths of flexible or preformed liner * Creating a bog garden * Working with sand, gravel, and boulders less than 1 foot in diameter
INTERMEDIATE SKILLS
* Installing a freestanding fountain * Building a stream or waterfall * Laying a brick patio * Laying small amounts of tile
About the Author
Elizabeth Jean is the author of this article written , a premier Internet resource for wall fountains and garden fountains.